About Us..
Somnath Impex is a Merchant Exporter company from India. Through established relationship, vast resources and dedication, we have reached a strong position in the commercial export of Natural Rubber, Cooper Busber, Low Voltage Switch Gear Product, Structural Still etc.

Founder and Chairman, Mr. Jignesh Patel, laid the foundation for the company and since then has handled business.
We respect every deal that we undertake and are persistent to building relationship through successful trading. We have developed successful contacts and rapport in the trading market. With over fourteen years of experience in this field, one can find us to be an ideal company to operate with.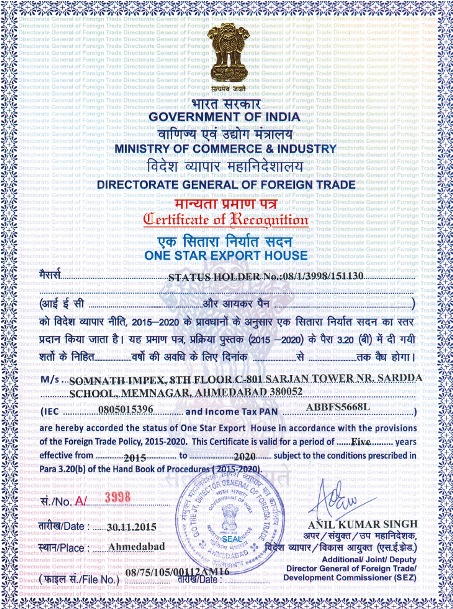 Over the years we have gained experience and confidence of the trading market and have made a name for our self. This is evident by the support of supplier-buyer base that we have who are very well known names in the industry and hold a repute and long standing in terms of quality and performance.
At Somnath Impex, we act as your own representative office for all your needs and assuring you of quality service at all times for all transactions.
Our Mission
To manufacture, procure or outsource the best of products or services at best prices for the benefit of all.
Our Vision
Empowering people and generating trust
Genuine People with Great Values
Our Dedicated and consistent performance is attributed to our core values :
• Integrity and honesty
• Commitment to under- promise and Over- deliver
• Always available, 24 hours / 365 days
• Passion for customers, partners, and technology
• Open and respectful to "Changes"
• Willingness to take on challenges and see them through

Broad Customer Connection
Our excellent relationship with our customers helps us to understand the impact of any change in any product and its impact on the benefit of our customers. We always take decisions to benefit our clients.
A Global, Inclusive Approach
Thinking and acting globally, enabling a multicultural workforce that generates innovative decision-making for a diverse universe of customers and partners, innovating to lower the costs of technology, and showing leadership in supporting the communities in which we work and live.